How to contribute to OsmTransport ?
Par René-Luc D'Hont le mardi 28 juillet 2009, 15:41 - Système d'Information Géographique (SIG) - Lien permanent
OsmTransport is a tool to display public transport network data extracted from OpenStreetMap. These data represent the bus, tram and subway lines and stops.
In OpenStreetMap these data are created with relations. These relations have the same tag type which is equal to route. And we use tags as described in the openstreetmap wiki http://wiki.openstreetmap.org/wiki/Relation:route#Public_Transportation.
For example the tram line 4 in Valencia, Spain is a relation with tags as follows :
type = route
route = tram
ref = 4 (the number, lettre or other distinction)
color = #0038F0 (facultative but useful)
operator = FGV (facultative)
network = metrovalencia (facultative)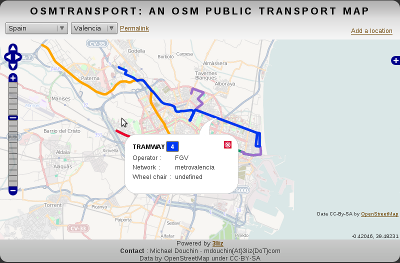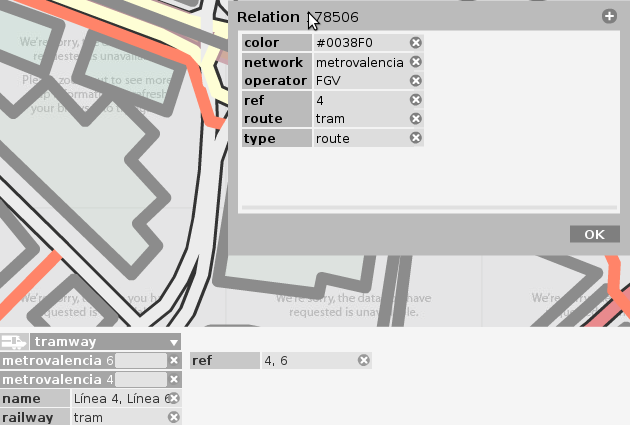 It's possible to use Potlatch, the Flash-based OpenStreetMap Editor, to create new relation or update already done. For starting you can help to complete the tags of some lines, for example the refs of the London subway lines or the colors of the Amsterdam tram lines. For your first relation, I advise you to start with a subway or tram line.
Finally if your city isn't in OsmTramsport database, you can add a location with the link Add a location. You have to draw the extent of the network and specify the name and the country of this new location. If the country is already in the database you can immediatly see the state of the public transport network in OpenStreetMap. We update the database every morning from data made available by Geofabrik, so there may be a latency between the update in OSM and OsmTransport.