LiziMaps : WMS protocol
Par René-Luc D'Hont le lundi 30 juillet 2007, 21:54 - Système d'Information Géographique (SIG) - Lien permanent
The version 0.2 of LiziMaps has been released.
The version makes ergonomics improvement but more especially the possibility of generating and visualizing URL whose protocol is wms.
A new button,

, has been appeared in the interface. This button gives you the wms URL associated with the current base layer view. You can save this URL in your bookmarks or use it in a Web page. The wms protocol also gives the possibility to place very simply at the disposal of the LiziMaps users Web Map Service.
If you have updated LiziMaps, either directly by starting your Firefox or by checking the presence of an update in the Add-ons dialog, or installed LiziMaps 0.2, you can directly click on the following links :
Here my own chart of the basins Canadian oceanic slopes created with LiziMaps :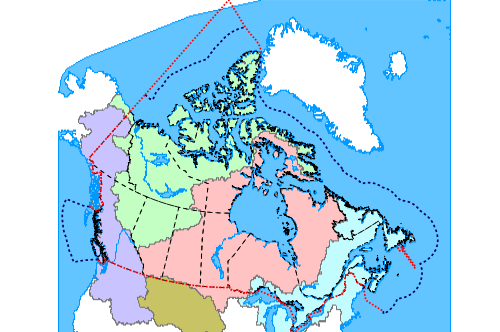 Technically wms protocol URL is composed like this :
scheme = wms
the host is that of the service
the path is that of the service
then a list of parameters if you wish to specify a map based on the service
The usable parameters are :
LAYERS, the layers NAME list of the service.
STYLES, the selected layers style NAME. If this parameter doesn't exist, the default styles will be used.
SRS, map's Spatial Reference System. If this parameter isn't specified, the service default srs will be used.
BBOX, the map's bounding box in the specified srs. If it's not specified, the default srs bounding box will be used.
FORMAT, the image format provides by the service. The default format is image/png.
If no parameters are specified, the wms URL gives access directly to the Web Map Service, for example :
Interesting, isn't it ?