OsmTransport 0.2.5 : Functional update
Par René-Luc D'Hont le mercredi 29 juillet 2009, 18:37 - Système d'Information Géographique (SIG) - Lien permanent
OsmTransport is still evolving. This new version offers better ergonomics in the discovery and consultation of public transport networks.
Here is for example the town of Saintes, which was recently added: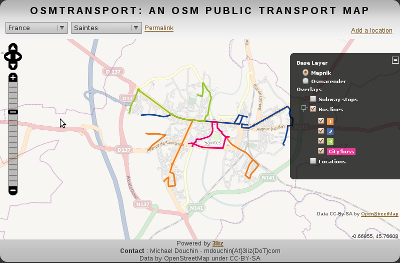 As you can see from the example of Saintes, only layers with data are accessible in the Layer Switcher, which means it is now easier to identify that there is no data, like in Madrid.
The other development is the integration of the color of the line in the Layer Switcher. This lets you quickly see the association between the line number and the color thereof. A network such as Lausanne, Paris and Montpellier, is easier to read and explore.